10 days in and I still have not played Skyrim. I've been too busy. However, that doesn't stop me from seeing what other people have pointed out. Given that it is a PC-playable game, there are no shortage of YouTube videos out showing many of the plusses and minuses of it. (There seem to be plenty of both.) If I took the time to analyze each one that I saw, I would never get anything done and would have even less time to play it myself. That said, some things are too easy to pass up.
This video came to my attention via someone on Twitter and I thought it was worth a mention.
This is something that is so easily fixed that it is spectacular that this even occurs.
Obviously, our poor Lydia is having a difficult time with this gate trap. The problem is, she really shouldn't. While we can understand Lydia getting whacked the first time (after all, that's what traps are all about, right?) why is it that she persists in trying to go through the same area? This is something that is so easily fixed — even with likely existing tech and logic — that it is spectacular that this even occurs.
The short version of why this is happening can likely be summed up as follows:
The pathfinding engine in Skyrim is a waypoint graph rather than a navmesh. The edge that she is trying to follow runs right through the middle of that gate and, therefore, right over the trap trigger.
Even when knocked off the graph, her top movement priority is to get back on the path at the nearest node. This is why she moves to the center of the hall instead of just moving along the left (her left, our right) wall towards the player.
She has no recollection of getting hit by the gate. Therefore, nothing about her processing is different in each iteration.
Even if she recalled that the gate is the problem and was able to understand that the trigger stone was the issue, on a waypoint graph she has no way to really steer around the stone anyway.
When she is stuck behind the gate against the wall, she has no realization that she is stuck… therefore, she keeps "running".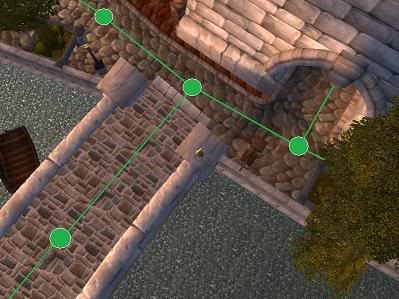 As you can tell, this could be remedied fairly simply. First, for the pathfinding issue, a navmesh would be very helpful here. (For an excellent treatment on waypoint graphs vs. navmeshes, see Paul Tozour's post on Game/AI, Fixing Pathfinding Once and for All.) That way, the stone could be created as a separate mesh polygon and, upon discovery, marked as as something to avoid.
Of course, the above is premised that the stone can be "discovered" in the first place. Certainly, Lydia managed to "discover" the stone when she got whacked the first time. What she failed to do was make a mental note (in an e– sort of way) of its existence. It is at this point that the AI started to look stupid. Again, not really all that hard to handle. In fact, by simply doing what I suggested above (marking up the navmesh as being unusable), this becomes implied by her subsequent behavior of avoiding the stone. No animations, voice barks, etc. needed. She just doesn't do the same thing twice.
The being stuck behind the gate thing is actually a separate problem entirely and I won't bother to address the details here. Suffice to say, however, that it is partially similar in that it is based on the notion that NPCs rarely have a sense of "futility".
Anyway, I just thought that this was worthy of note specifically because the solution is so easy to implement. It makes me wonder why major studios can advance so much in some aspects of their AI and yet have such glaring holes in other areas. I suppose that's why we now have the AI Game Programmers Guild and the GDC AI Summit. We are trying to share enough information between us that we are lifting the floor of game AI as a whole.